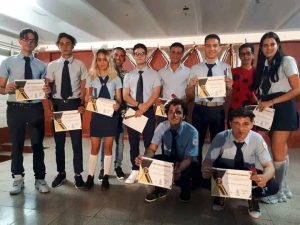 In honor of the heroes who attacked the Moncada barracks in Santiago de Cuba and Carlos Manuel de Céspedes in Bayamo, the thirty-sixth graduation of the Pre-University Institute of Exact Sciences (IPVC) Candido González Morales of Ciego de Avila has begun.
Freshman Kathryn Conde Perez was the top alumnus of this promotion, Diego Armando Diaz Rodriguez earned Most Outstanding Student recognition, and all four students were distinguished with Gold titles.
Those with direct jobs, among them nuclear physics, pure chemistry, mathematics, radiochemistry, computer science, and mining engineering, also received recognition.
The student body that culminates in higher secondary education at the IPVC in Ciego de Avila, dedicated the celebration to Master of Science Néstor Medina Mondeja (El Chema) for his dedication and dedication to his profession, likewise, they awarded the "Golden Chalk" to Mr. Gerardo Robert Valiente.
Another time, Alumni presented the "Pyramid of Graduation" award to Professors Ezel Jesus Padrón Hernandez and Rolex Gamboa Gilarte.
The 26th graduation of Avilanian IPVC was an honest reflection on everyday life in three years of hard work, on the journey of these young people that ends today, as it is the beginning in search of new horizons.
Ariel Gonzalez Guzman
"Social media evangelist. Student. Reader. Troublemaker. Typical introvert."